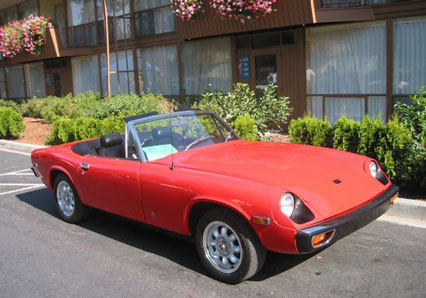 Jensen National Meet West
Santa Rosa, California
July 16-20, 2003
By Mark Osborne

Hi Greg,

Understand, I have a limited amout of experience with these things. My other experience is with a very well organized vintage Volvo group, and the prez is also the National prez, and a true "good guy".

I did not attend the Thurday/Friday tours. I've seen more wineries than I can count, don't drink, and have driven most of the roads here...
Saturday was the "show & shine" and Tech sessions, as well as the awards dinner. I will speak to these....

Look, everyone was very nice. Everyone tried really hard, and I know these things can be a nightmare. I helped chair the track day after the big West Coast meet at Davis for the Volvo Club. I'm not ungrateful, just a bit miffed...

Sign up, went ok. Got the goodies... hmmm a cheezy cooler and water bottle, frisbee, and keychain... from the FREAK'IN 1996 meet! That's right, a hand full of left overs.... 1996 Lake Tahoe... the keychain is from the old AJO.
| | | |
| --- | --- | --- |
| | Hmmmmm What year is this anyway, Mr. Peabody.... | |

What's up with that? The commemorative swag is from 8 years ago? Oh, and a new wooden keychain from this year that's kind of cool. Someone had this crap in their garage, and it found a new home.... soon to be seen on ebay.

The Polo shirts were nice (an extra $28) I'm ok with that.

Traffic control was a nightmare! 40 lousy cars, come on! An hour long cluster F*&^k to get a picture shot. They were used on the plaques. Never got an offer to buy one for myself. Kinda doesn't make sense.

Parking the cars for the "show & shine" was the earlier nightmare... in reverse...

The cars. Mostly Jensen Healey and Interceptor Saloons (an aquired taste IMHO) We did have five Interceptor convertibles, and 2 GTs. One GT had a Nissan 3.0L motor and automatic. Nicely done, but what a crime... the other was a mess that came on a trailer as a "restoration in process" Got to give the guy credit for effort. Also a 1939 Jensen H-Type. Could have been really a nice ride if it wasn't painted silver over lavender. Looked like an old whore... but to each his own. The JH's were on the whole pretty good to a clapped out POS that had a "For Sale $5,400.00" sign on it. Later it was rumored to be reduced to $3,400.00 worth about $1,500. The famous Jensini was there.

Most of the cars were restored or customized in some way. Less so the Interceptors. All the convertibles were really nice.

<axe grind mode on>
My car is almost entriely stock and unrestored (except air cleaners and Panasports/tires) By far the best unresstored example there. Original paint. Worked like a galley slave all day Friday detailing it. Did I win anything? NOOOO... all those tarted up hookers caught the fancy of the crowd...
<axe grind mode off>

The Jensen Healey that won first was a beautiful restoration. Truely first class work. Jensini took second, third went to a car painted in a freak'in Cadilac color! Pretty, but so what. OOPS ranting again...

The "best" Interceptor Saloon had everything under the hood annodized "plum" as well as the interior (white leather, plum piping). Wheels, and dash was a plum carpet. Plum radiator hoses, wiring etc. Again, not my cup of tea.

The JH's were mostly all nice save the ratty sale car and a car with a 289 ford and automatic.

Most were steel bumper cars, 2 were badged as JH5's.

After the show'n'shine there was supposed to be a tech session. Guess nobody read the schedule, as it was TBD, and in fact never happened because there was no one to give it. This is inexcusable, in my book. This is the main reason I went. I enjoyed seeing all the pretty, repainted cars, all the people were really cool, but why publish a schedule with a tech session you aren't going to have? It was still on the daily schedule I got at the meet.

The dinner was another CF of scheduling. Every document published had it starting at 7:30... It really started at 6:00. This was poorly communicated, verbally as the S & S was breaking up. About 10 people never got word and showed up as the rest of us were finishing dinner. Nice touch. Food sucked. I know the Chef well at the Flamingo. He was a client of mine when I was an Orgainc Farmer. He does good work. This was just cheap. Are Jensen onwers that cheap that another $10.00 for better food would kill the deal? Also, NO WINE!, here we are in the heart of the Sonoma Valley, and no wine on the table? $5.00 a person would have handled that.

The presentation to Jim Medland was nice. He's looking to sell Delta, if you're looking for another career.

Alan and his wife Jean (Prez of the JOC in Merry Olde England) were also there. Nice people. Nice raffle, lots of stuff from Jim... even won a tee shirt.

I know for a little more $$$ and a touch more effort, it could have been a real gem. As it was, it was just ok. The people are great, it just seems the show suffered from low self esteem. For gosh sakes, we're all adults, we all enjoy good food, why the rubber chicken and Elsie the Cow?

Maybe I'm spoiled. I know what it takes to pull one of these off. I know that they worked really hard and did their best. I don't want to belittle their efforts. I just think it was a little seedy. What I don't get, is the trailer park feel of the whole thing.

That's it... met some folks I've traded emails with, that was cool. Again, good group, execution was a little short of the mark.

Maybe I'll head to LA in the beast and crash one of your get togethers.

Pizza anyone?

Mark Osborne
Sonoma, California
PS: Some stats:
41 Jensens
2 GT's
5 Int Convert
1 '39 Type H
Red car was Bob Klassen from Calgary- longest drive at 1478 miles
Click here to see the photo album
main | jensen | tech | people & places | marketplace | message board | join | garage | links | mail