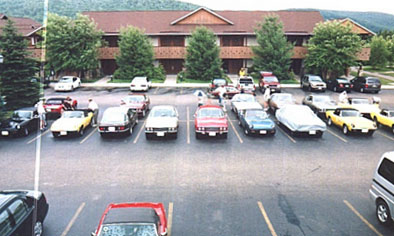 Jensen National Meet East
Ellicottville, New York
July 10-13, 2003
By Joe Mazurk

Hi Greg,
My wife Teresa and I left Chicago at about 6 in the morning of the 11th hoping to make it to Ellicottville, New York in time for the Bar-B-Que. I prepped the GT for the trip checking the levels and bringing some extra parts and tools-just in case. None were needed, my GT is one roadworthy vehicle. Averaging about 70 miles an hour and the temp needle constantly in the middle, we arrived about eight hours later. Upon entering the parking lot, Jensens were coming back from the planned road rally. I was noticing some never seen Jensen Healeys and they were very nice looking. I unpacked my bags and told the little lady that I would be right back. What a lie!! I had to check out these Jensen Healeys. First was Brett Gibson's blue JH that was one of the last ten built at the factory. His engine was a GT engine and it had some unique GT parts in it. I guess as they were winding down production of the JH and were running out of JH parts and putting in parts from the soon to be produced GT. Next, came Tin Knowlton's black JH. What a beaut! His and mine were the only black Jensen Healeys/ GTs there. Tim has really upped the standard for our cars, sure he put in some money but it looks and sounds great. There was a JH with license plate YELODOG driven by a guy named Pete from New Jersey, his was race equipped. It seemed like everyone has shaped their car to fit their personality. Everyone was unique. There were also many JHs that were very stock and were in near perfect condition. Dave from Michigan had an orange one that was just awesome. It was good to see so many new faces and new cars I really think that the Jensen Healey will be a very sought after car in the next few years.
Before the Bar-B-Que everyone took a ride in a ski lift to get us to a party room at the top of one of the many mountains in the area. Since I have never gone skiing before it was pretty cool. Light refreshments were available and Jensen talk was in the air. Soon after the Jensen crowd met in a banquet room for chicken, pulled pork sandwiches, corn on the cob and other delights. I took pics of everyone at their tables while everyone ate and listened to the two folk singers singing songs from the 70's.
Later that evening there was an auction of Jensen memorabilia which helped raise seed money for the J2004 Nationals being held in Frank Schwartz's neck of the woods, Nashville.Saturday morning the funkhana (I call it the funkarama) was held. I was busy getting my triple black GT ready for the concourse later that afternoon. I had found a stall car wash a few miles down the road and was able to do a through cleaning of road bugs plastered on my windshield. Time was spent giving people rides in my GT who had never seen let alone driven in one. They were surprised how fast, quiet and comfortable a GT can be.
The awards banquet was held at 7pm, chicken and rare prime rib was served. I had heard Mitch Ware of New York request for a piece of meat that was so rare that even a good vet could bring it back! After everyone had their fill, the awards were given out in what seemed like 3 minutes. Even when the presenters announced the Jensen Healeys it came out as JensenHealeyGTs, all in one word. They were grouping the Jensen Healeys and the GTs together! Was I shocked! No separate class for the GTs what a rip!!! Everyone goes to these events for their own reasons. I go to meet old friends, make new friends and try to win trophies. I voiced my concerns to Aaron Gross, Eastern National cordinator and reasoned to him why there should be a separate class even if there is only one GT at the meet. He finally agreed that I was right in my thinking and would press all future sponsors of the Nationals to include the GT in a separate class.
All in all Jeff and Laura did a great job of keeping us busy and providing us with great food and fun times. For anybody who missed this event there will be others and I really hope you do try to make it to the next one. Knowing Frank, as I do, I am sure that he and Patten will put on quite a show full of Southern hospitality.
See you there!
Joe Mazurk
Chicago, Illinois
Click here to see the photo album
main | jensen | tech | people & places | marketplace | message board | join | garage | links | mail